Let's take a look at the top cosmetic concerns right now and the 7 key plastic surgery trends for 2021.
The coronavirus pandemic has changed how we work, how we socialise and even how we look. It's led to new behaviours and changed priorities, and one area these can especially be seen is plastic and cosmetic surgery.

Weeks in lockdown led to pent up demand for treatment, with people eager to feel good about themselves once again. But, thanks to our new mask-wearing, socially-distanced reality, there's been a shift in the types of procedures people want.
Zoom face maintenance
The biggest change we see in terms of the treatments people want is an increased focus on the face. Prior to coronavirus, procedures to augment the body - like Brazilian butt lift and breast enlargement - were most in demand, but now people's attention has moved above the shoulders.

The reason for this is the massive increase in video calls most of us are doing. Whether it's work meetings or simply keeping in touch with family and friends, we're all using platforms like Zoom and FaceTime more often. And when we're speaking on video, it's hard not to focus on our own image - and all the imperfections! Naturally, then, we're seeking out facial surgery and aesthetic treatments that make us look better on camera.
Face mask eye tweakments
While video calls have caused us to notice aspects of our face we'd like to change - wearing masks has also made us look at ourselves in new ways. When you wear a face mask, as many of us now have to do all day at work, only half of the face is on show. This means that we no longer assess our face as a whole and are focused only on the upper half.

Suddenly, all we can see is crow's feet, eye bags, dark circles and sagging eyelids. And because we have to wear masks for all our social interactions, it has become more important that our eye area is attractive. Treatments that have seen a boost as a result of this include, upper and lower blepharoplasty, under eye filler and Injectables.
Maskne treatments
Wearing a face mask hasn't just made us paranoid about our ageing or tired-looking eyes, it's also caused many of us to break out in spots. Lots of people who never had problems with their skin before are now suffering from pimples and rashes.

As well as using topical skin creams, people are turning to treatments including chemical peels, ILP/lasers, mesotherapy and PRP facials to tackle outbreaks and treat leftover hyperpigmentation and scarring.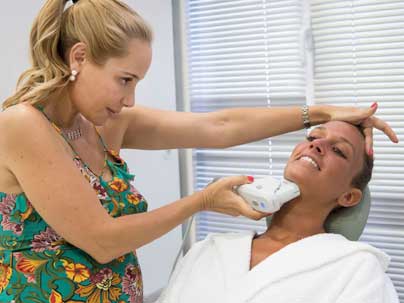 Game-changing injectables
Cosmetic injectables are great for a quick fix and people can't get enough of them right now. But one of the downsides is that they don't last that long. Botox, in particular, wears off quickly - typically, after three or four months. That looks set to change with the new generation of neurotoxins and hyaluronic acid fillers set to hit the market this year.

DAXI works like Botox, paralysing the muscles that cause wrinkles in the eye and brow areas, but it is said to last significantly longer - around six months. Likewise, a new type of filler known as Resilient Hyaluronic Acid (RHA), promises to last up to two years and provide natural-looking results on severe wrinkles.
Combo treatments
While plastic surgery and aesthetic medicine are two separate fields, we're increasingly seeing them come together. Combining surgical and non-surgical treatments can provide enhanced results. And practitioners continue to experiment with new combinations to push the boundaries of what's possible.

Ocean Clinic's own "magic" combo for treating extensive stretchmarks involves three non-invasive treatments. Ultrasound treatment Ultherapy is combined with injectable filler Radiesse and microneedling device Dermapen 4. The protocol can also be used in conjunction with liposuction for the best possible results.
The "Fakelift"
Thanks to the huge range of aesthetic treatments that practitioners now have in their toolbox, it's possible to simulate results that were previously only achievable through surgical procedures. One such procedure is the facelift. As we've seen, facial treatments are especially in demand at the moment, but not everyone wants to go under the knife.

The "fakelift" is an alternative solution. The procedure involves using Nanofat microneedling to plump out and rejuvenate the skin, followed by Radio Frequency to tighten it and Botox to ease facial lines. What's great about this procedure is that it can offer many benefits of a traditional facelift without the downtime.
Preventing ageing
As we go into 2021 and beyond, there will be a fundamental shift in how we use anti-ageing treatments. Because these procedures are becoming much more mainstream, people's expectations for ageing are changing - we don't just want to fix wrinkles and sagging when they occur, we want to stop them from happening in the first place!

This means the focus will move from restorative treatments to preventative treatments and people will start having Botox, skin tightening and skin resurfacing procedures at an earlier age. This will let them maintain their appearance for as long as possible, effectively stopping the clock rather than turning it back.

Want to know more about these plastic surgery trends or any other cosmetic procedures? We're offering online consultations - book yours now!