You might be considering some cosmetic surgery. If you are, it's important to do your homework and choose your surgeon carefully.
Naturally, you'll want to make sure they have the necessary training and experience to carry out your procedure, but there are other factors to double check too. To help you, we've put together a checklist of top questions to ask at your consultation, ensuring you can move forward with your treatment plans with confidence. Here's to a happy new you!
5 Important Questions to Ask Your Plastic Surgeon
1. Are you a plastic surgeon or a cosmetic surgeon?
You might not realise there is a difference, but the terms 'plastic surgeon' and 'cosmetic surgeon' cannot be used interchangeably. Plastic surgery is a specialist medical field and those who practice it will be certified by national and/or international boards. This means they will be held to the highest standards, encompassing everything from skills, knowledge, judgment, safety and ethics.

Cosmetic surgery, on the other hand, may be performed by general physicians and unfortunately, some are not under the guidance of a properly credentialed board. It's easy to check out a surgeon's credentials online.

Ocean Clinic's Head Surgeon Dr Kai Kaye is a fully registered plastic surgeon in Spain, Germany and the UK. He is a full member of:
He is also a fellow of the European Board of Plastic, Reconstructive and Aesthetic Surgery.
2. Were you trained specifically in the field of plastic surgery?
Some physicians performing plastic surgery procedures are primary care physicians (GPs), emergency room doctors or general surgeons without residency training in plastic surgery. Many take short courses in specialist procedures such as liposuction or breast augmentation and then return to their practice to begin performing them on patients.

A board certified plastic surgeon, meanwhile, will have completed at least five years training in plastic surgery, including a residency training programme at a clinic or hospital. They may also have undertaken extensive study in specialist fields of plastic surgery. Be sure to obtain their full C.V.

Dr. Kaye received his medical degree from the University of Munich in 2001 and subsequently received his University Doctorate Magna cum Laude in 2002 following two years of research in the field of reconstructive plastic surgery. He then completed a two-year residency at the Park Klinik Birkenwerder in Berlin with a special focus on breast surgery and autologous fat transfer.

After joining the highly respected Plastic and Reconstructive Surgery Department at the University of Aachen, Germany, Dr. Kaye gained specialist experience in microsurgery, burn surgery and hand surgery.
3. Where will my procedure be performed?
Some surgeons do not have their own operating facilities and will use those of another clinic or hospital. If that is the case, you should ask for full details and request to view the operating theatre and recovery rooms. If your procedure is to be performed on an outpatient basis (meaning you will not stay overnight), some surgeons may carry out the treatment in their office.

Make sure the surgical facility is registered with the correct authorities and has the necessary equipment should a medical emergency occur, such as a defibrillator. You should also ask about the professional insurance they have in place.

Ocean Clinic has its own state-of-the-art operating theatre, on site at its central Marbella premises. It is fully licenced and equipped and has its own overnight patient ward. This includes five luxury private rooms featuring en suite bathrooms, flatscreen TVs, Wi-Fi and facilities for visitors to stay overnight.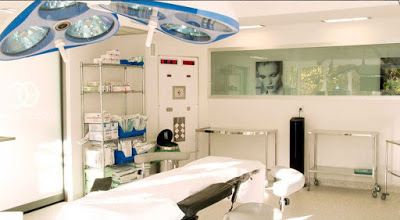 4. How many procedures of this type have you performed?
It's important to make sure your surgeon has adequate experience; not just in the field of plastic surgery generally, but in the specific procedure you are requesting. You should consider both the volume and frequency, as well as the time since they last carried out the surgery (i.e. they might have done a large number of facelifts in the past, but not any in the last five years).

As a minimum, you should look for a surgeon who carries out the procedure once a month. For something common, like breast augmentations, it's reasonable to expect the surgeon to have carried out 50+ in the last year. You should also ask to see a selection of before and after photographs of patients who have had the procedure you're requesting.

Additionally, you can ask to speak to one or two of those patients to find out about their experiences first hand. This is something we are happy to arrange at Ocean Clinic Marbella.
5. What are my options if I am dissatisfied with the outcome of my surgery?
If you have carried out your due diligence, then the chance of anything going wrong with your surgery is significantly minimised. However, it's not always possible to foresee every circumstance or anticipate how the body will heal. Therefore, it's important to know how your surgeon will tackle complications or complaints, should they occur.

What are the possible complications associated with your procedure and what steps would they take to rectify them? Is revision surgery included at no extra cost? Do you need to take out additional, independent aftercare insurance?

Ocean Clinic Marbella is committed to customer satisfaction and offers any additional treatment required included in the original price. Our dedication to patients has led to us winning the WhatClinic Customer Service Award. Ocean Clinic Marbella has also been certified by the International Standards Organisation (ISO).

And finally… It goes without saying that you should make sure your consultation is with a properly qualified medical professional and not a salesperson. At Ocean Clinic Marbella your consultation will always take place with the appropriate specialist.
To make an appointment please contact us via our online contact form or send us a message on Facebook.