At Ocean Clinic, we believe how our patients are treated after their plastic surgery is just as important as before. Our aftercare programme starts the moment you leave the operating theatre and continues throughout your recovery.
Your own room
Immediately after your cosmetic surgery at Ocean Clinic Marbella you'll be taken to the recovery room to come round from the anesthesia. Once you are awake, you'll be assisted to your private room. The day surgery rooms, which overlook Marbella's iconic Alameda Park, are designed to make you as comfortable as possible. Each one features an en suite bathroom, flat-screen TV, Wi-Fi, air conditioning and large sofa for visitors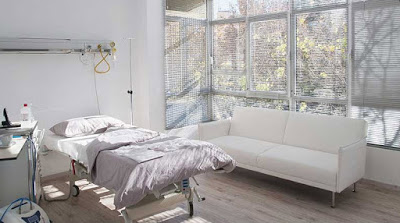 Round the clock care
You'll be assigned a nurse who will take care of you, bringing you refreshments, changing your dressings and helping you manage your pain with intravenous painkillers. If you've had a facial procedure, you might be given a cooling face mask to wear. The mask has iced water continuously pumped through it and helps to minimise bruising and swelling.

If you choose the option of staying on in our adjoining recovery facility you'll be able to choose a hot meal from a local restaurant, which will be brought to you in your room. To make you as comfortable as possible overnight, you'll be given medication to help you sleep and you will be able to call for a care nurse at any time.
Getting discharged
After your surgery, you'll be checked several times by Ocean Clinic's plastic surgeons to see how you're feeling. Before you're discharged, you'll be fitted with any compression garments that you might be required to wear. And you'll be advised on how to take care of yourself when you get home. This will include the medications you need to take, any creams to apply and guidance about bathing, sleeping and activity levels. You'll be given a 24-hour contact number so you can always speak to someone if you have any concerns.
Follow-up appointments
A week after surgery, you'll be asked to return to the clinic for your first follow-up appointment. You'll have your dressings changed or bandages removed, and you might be ready to have your stitches removed too.

Something we're proud to offer all our surgical patients is a course of lymphatic drainage massages with our physiotherapist Silvia Pino. The purpose of the lymphatic massage is to help reduce swelling by moving waste fluids from the treated areas. While you receive the massage, you will wear some special 'trousers' that inflate, placing gentle pressure on the legs to encourage fluid circulation.

You'll also be treated with either ultrasound or radiofrequency therapy, which help to speed up healing and prevent the formation of scar tissue. They do this by heating the layers beneath the skin and triggering the production of collagen and elastin. Both of these treatments are non-invasive and completely painless.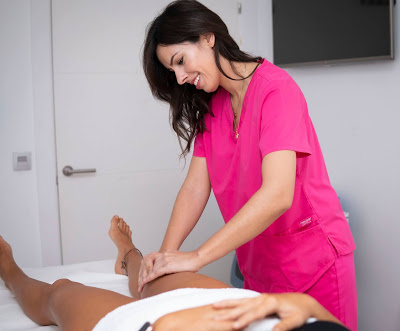 On-going support
You'll visit the clinic for a number of weeks to receive post-operative care and you'll always be able to speak to a specialist on your visit if you're experiencing any issues. When your treatment course is complete, you'll have a final appointment with your surgeon so they can sign-off on your results, and take photographs for your medical record.

Importantly, you'll always be able to contact Ocean Clinic and speak with a surgeon at any point in the future, giving you reassurance that you have on-going support. Our patient testimonials underline our commitment to first-class care at all stages of your treatment. Contact us to make a consultation if you'd like to know more.