Chin & Jaw Implants
Chin and jaw implants have soared in popularity as the digital world has made us all more aware of our profile than ever before - they are typically inserted through incisions in the mouth, under the chin, or behind the jaw. Chin implants (as they are generally known) serve to create a more prominent and pronounced structure. Recovery time is approx. 1 week, swelling can last for a few months but the results are noticeable at around 2 weeks.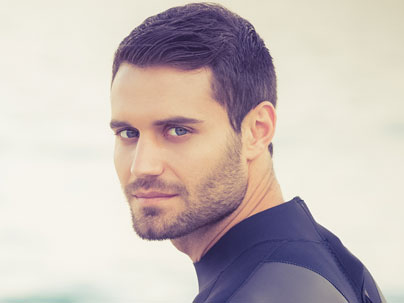 The male jawline is a symbol of masculinity, an attractive jaw and chin structure balances the symmetry of the face and creates a strong, powerful appearance. A weak chin/jaw is just that - weak looking.
Male Rhinoplasty
Nose correction (reconstruction) for either/both cosmetic and functional purposes. The nose is the first thing you see, we lead with our noses, and so it is only fitting that if you are unhappy with what you were dealt, this may be one of the first things to consider altering. Nose jobs vary from person to person but generally bone is removed to change the shape of the nose and nostrils are reshaped to create the ideal look for your face. Recovery can take around a week, during which time usually a splint will be worn to keep everything in place and protect the new nose. There is a fair amount of swelling and around the eyes can look very bruised and puffy. Typically the full effect of the surgery can be seen at around 3 weeks post-op.
Dermal Fillers for men
Injectable fillers for men in a variety of places, including the penis (known as the SWAG procedure) where added girth (and occasionally moderate length) can be achieved using thicker dermal fillers. The face is the most popular area for fillers, frown lines, cheek definition, lips, etc. sculpting and contouring the face and 'filling' areas that tend to lose fat and shape as we age or where we are naturally lacking. Recovery is minimal, life can resume as normal immediately (not sexually in the case of penis fillers - patient should wait for around 1 week), and results show up right away and progressively improve over the next few days.
Male Liposuction
Liposuction entails the removal of fat from the body using a suction instrument. Saying goodbye to the love handles, and the 'dad-bod' is standing out as a big request for men in recent years. One of the most in-demand procedures for men is therefore liposuction. At Ocean Clinic we prefer to use water-jet assisted liposuction (WAL) as it minimises bruising and swelling. Liposuction leaves barely any marking from the tiny incisions made and recovery is dependent on how much you have undergone but at around a week you can return to 'normal' life without exercise - this is acceptable at around 4-6 weeks depending on individual recovery.
Facelift for men
Traditional facelifts, as well as fat grafting facelifts, are fast becoming one of the top requested procedures by men in recent years. Taking years off an ageing face by removal of fat from an area of the body that has excess (via liposuction) and inserting it under the skin in sagging, or looser areas of the face to create a fuller, less wrinkled, more youthful appearance. Facial fat grafting is often combined with a deep plane facelift to achieve even better, longer lasting results. As a combined procedure the surgery time is around 3-4 hours, recovery is 7-14 days and the results last for up to 15 years or longer (depending on individual's lifestyle).
Male Eyelid Lift
Eyelid lift surgery can either address excess skin on the upper and lower eyelid, eye-bags (bulging fat below the eye), wrinkles on the lower lid or all of the above at once. The procedures can be performed either as an isolated procedure or in combination with other facial procedures like facelift, browlift frontal lift, chin implants or rhinoplasty.

Pre-operative considerations include a thorough evaluation of your anatomy and bone structure including the recommendation of possible complementary procedures like a brow lift to correct brow ptosis (hanging of the brow) and / or a periorbital fat transfer to correct sunken eyes. Recovery and surgery time vary depending on whether this is a combined procedure and whether it is upper/lower areas or both.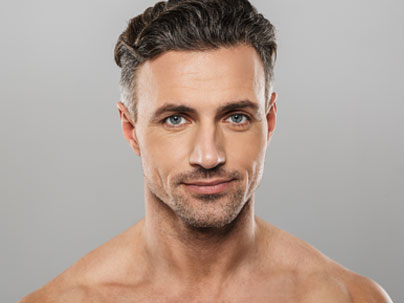 Men suffer from the heavy sagging eyelids, eye bags and wrinkles, just as much, if not more, than women and so blepharoplasty is big news in male surgery circles.
Chest Reduction
Reduction of male breasts, Gynecomastia, can restructure and sculpt the area to give a more perfected, masculine shape. Liposuction is one method used to achieve this (see info. above), which will require a few weeks of recovery time until the swelling goes down. Garments to compress the area during the recovery are worn for 1-2 weeks to keep everything in place and swelling to a minimum. Results can be seen immediately but for the fully recovered and contoured result, this should be apparent at around three months.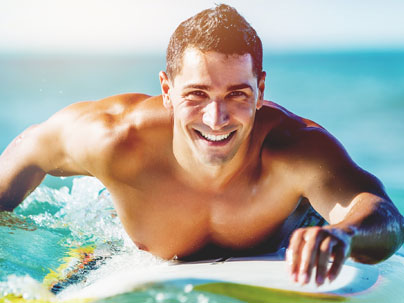 Something that men have had to suffer for decades before plastic surgery became so advanced and accessible, and which occurs in one in three males, is gynecomastia - overdeveloped breast tissue. We hate to use the term but 'man-boobs' are a really troubling part of life for many.
Neck Lift for men
Neck lift, officially known as platysmaplasty, removes any loose, sagging skin and fat to give a more youthful, smooth look. Incisions can be made around the jawline or behind the sideburns and scarring is minimal and well hidden. Most men don't want to come out looking too 'done' and so it is a natural-looking but effective alteration. After around two weeks the patient will feel as though they are looking 'normal' enough to resume public life however the swelling can continue to be present for a few months post-op.
For any further information on any of the male cosmetic procedures listed above, please contact our excellent team of professionals @ocean_clinic.