4 of The Best Summer Body Treatments
With Spain's State of Alarm set to end and the vaccination programme well underway, it looks like summer could be saved. And that means getting back to the beaches and pool clubs of Marbella! But will you be ready?
Lots of us let our fitness and beauty regimes slide a little bit over 2020 and, as a result, might not be as excited as we should be at the prospect of getting back into swimwear.

If you're not looking forward to stripping off, don't worry! In this blog post, we're going to lay out the 4 best non-surgical treatments for getting beach body confident.
Coolsculpting is a non-surgical treatment that reduces stubborn fat bulges using fat freezing technology. Fat cells don't like the cold and at a certain temperature, they will freeze and die. Once that happens, your body will naturally eliminate the dead cells in 1-3 months, resulting in up to 20%-25% reduction of fat in a treated area.

Coolsculpting can be used to get rid of fat on the thighs, abdomen and flanks. It's also effective for bra fat, back fat, underneath the buttocks and upper arms. Patients can start to see a difference after as little as one treatment. It's totally painless and can be done in between 35 and 75 minutes.

Best for cellulite: Cellfina
Cellfina can significantly improve the appearance of cellulite on your buttocks and thighs in just one 45-minute session. Cellfina technology is based on a procedure called subcision. It involves using a tiny blade inserted under the skin to cut and release the tight fibrous bands that cause skin puckering (a numbing solution is used to make sure you don't feel pain). Once released, the cellulite dimples bounce back and become smooth again.

Cellfina can also treat scars and wrinkles. Results can be seen in as little as three days and can last up to three years. According to a study, one Cellfina treatment improved the appearance of cellulite in 98% of people two years after they had the procedure.

Ocean Clinic Marbella has its own magic combo treatment for stretch marks, it combines Venus Viva with Dermapen 4, two non-invasive, pain-free treatments. Venus Viva is a skin resurfacing treatment that uses nanofractional radiofrequency to heat the cells deep in the dermis. This stimulates collagen production and encourages the skin to repair itself. As the skin regains elasticity and tightens, stretch marks become smoothed out. A published clinical study showed 97% patient satisfaction for overall improvement.

The effect of Venus Viva is enhanced with Dermapen, the only microneedling device with a dedicated setting for stretch mark scars. The pen uses 12 tiny needles to create microscopic punctures to the inner and outer layers of skin. This results in a regeneration of the collagen and other elastic fibres (read more about our protocol for treating severe stretch marks).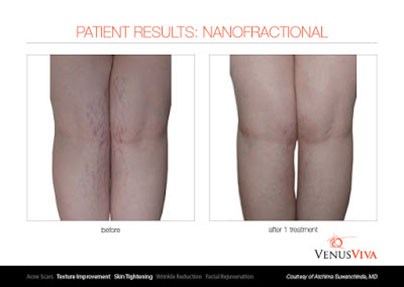 Best for skin tightening: Exilis Elite
Exilis Elite is a non-invasive body contouring device designed to tighten skin while also reducing fat. It uses a unique combination of radiofrequency, ultrasound and skin cooling. The aim of the treatment is to precisely heat the skin and tissue at different depths using focused thermal energy. Doing this at 40-42°C for 5 minutes in each treatment area leads to the unravelling of collagen structures.

Over time, the healing process encourages the production of new collagen fibres, helping to tighten loose or slightly sagging skin. At the same time, the treatment targets fat cell membranes, releasing liquid fat inside the cells. This makes them shrink, resulting in the treated area becoming trimmer and more toned. Exilis Elite can be used to treat love handles, bingo wings (flabby arms), saddlebags on hips, flabby thighs and post-baby tummies. It takes between 4-8 sessions but the results are permanent, providing you maintain your weight.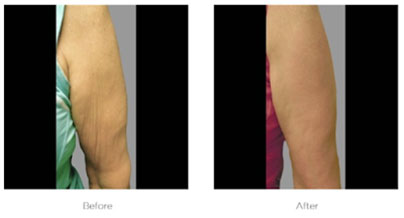 Go from zero to confident in no time!
All of these treatments are non-surgical, can be carried out quickly and don't require any downtime. It means you can be looking and feeling good in next to no time, and ready to hit the beach. If, however, you're looking to achieve more significant results, consider our surgical body treatments including liposuction, tummy tuck and breast and buttock enhancement.

For more information on any treatment, surgical or non-surgical, contact Ocean Clinic on (+34) 951 77 55 18 or by email: