Face & Body Treatments for Natural Beauty
Advancements in technology mean it's not always necessary to go under the knife to achieve visible and long lasting cosmetic results.

Ocean Clinic Marbella Medical Spa, offering a selection of the very best non-surgical treatments. Designed to tackle everything from cellulite and double chin reduction to the treatment of wrinkles, bags and skin blemishes, these cutting edge procedures offer a real alternative to surgery, with either little or no downtime.
LPG Endermologie - Face & Body
Backed by no less than 85 scientific studies, LPG Endermologie is a revolutionary connective tissue treatment from France. The skin is gently rollered and suctioned to reactivate dormant cellular activity. It has been proven to dramatically boost production of the rejuvenating substances collagen, elastin, hyaluronic acid, leading to all-natural repair.
A Non-Surgical Face Lift
You will see immediate results; with restored skin firmness that has a natural lifting effect. With each session, more improvements will be noticeable including the smoothing of wrinkles and fine lines, improvement of under eye bags and dark circles and a healthy, glowing complexion.

LPG Endermologie can also be applied to dissolve unwanted fat deposits, such as those under the chin. This technique also helps to redraw the contours of the face with a firming action that has a tightening effect.
Eradicates Orange Peel Skin
Using the patented Alliance treatment head, cellulite can also be effectively treated. Skin and fatty tissue are stimulated to soften them and make them less fibrous. At the same time, this stimulation helps to release fat and to activate blood and lymphatic circulation to give skin back its tonicity.
All-Natural Lipo
Meanwhile, LPG Endermologie offers a completely non-invasive alternative to liposuction, with the ability to target and slim specific areas resistant to diet and exercise (arms, back, stomach, waist, thighs, etc.) Skin sagging, too, can be tackled in areas such as the inner thighs, stomach, arms, providing a natural "body lift".
Pain-Free Treatment
LPG Endermologie is absolutely pain-free, safe and does not traumatise skin, meaning no redness. The treatment is suitable for men and women of all ages and all skin types. A course of 6-8 sessions is recommended for optimum results.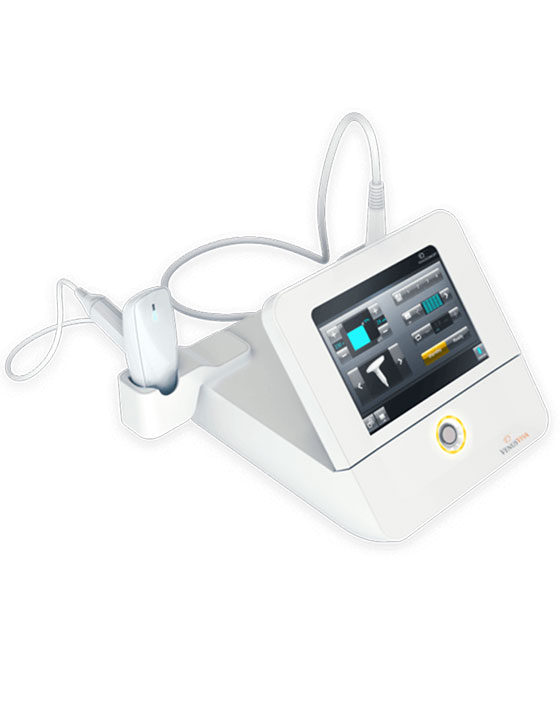 Venus Viva
If you're suffering with acne scars, large pores, rough texture, rosacea, age spots or pigment irregularity, the Venus Viva skin resurfacing treatment can help. The device uses nanofractional radiofrequency to heat the cells below the surface of the skin and stimulate the body's natural collagen production.

Energy flows through the groups of needle-shaped pins, and penetrates deep into the tissue, with minimal discomfort. The treatment is highly customisable and can be tailored to each patient's individual needs.
Replaces Laser Treatments
Venus Viva can achieve effective skin resurfacing with minimal downtime, offering a great alternative to harsher laser treatments. Results can be seen immediately, with a course of 3-4 sessions recommended to fade the appearance of deep set scars and stretch marks.

A published clinical study showed patient satisfaction scores of "Satisfied" and "Very Satisfied" for changes on texture, size, and overall improvement were 96.67%, 93.94%, and 96.97%, respectively.
Venus Legacy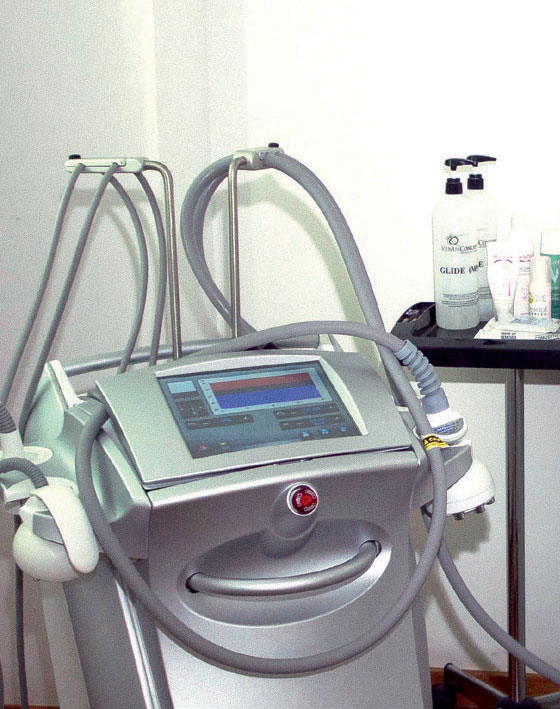 Venus Legacy is a revolutionary new skin tightening treatment that combines multi-polar radiofrequency and pulsed electromagnetic fields to stimulate the tissue deep down.

It works by heating the tissue to trigger both the tightening of existing collagen and production of new collagen, while encouraging lymphatic drainage and releasing trapped fluid.
Toned Skin for Face & Body
The system can be used for smoothing out wrinkles, reducing cellulite, addressing skin sagging and even contouring stubborn pockets of fat – all without any invasive treatment. On the face, achieve an uplifted and contoured effect, while under eye fluid is reduced to tackle bags. Tighten jowls and neck for a more defined jawline.

On the body, tighten arm skin to eradicate "bingo wings", reduce belly fat for more defined abs, lift and tone buttocks and contour thighs to slim and smooth.

Venus legacy is 100% safe and painless. It can be used on all skin types and on all parts of the face, neck and body. A course of 5 sessions is advised for skin tightening and collagen activation, while 10 is recommended for fat reduction and significant uplift.
Dermapen Microneedling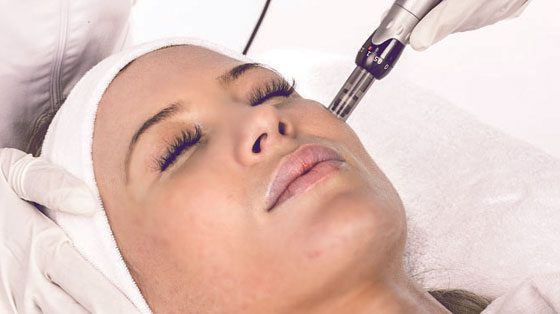 Dermapen Microneedling rejuvenates the skin through a process of "therapeutic wounding" that triggers the body's innate ability to repair itself. 12 microneedles create micro injuries to the epidermis (outer layer of skin) and dermis (the inner layer of skin) triggering the production of new collagen and elastin as part of the natural healing process.

Meanwhile, these micro-skin channels can carry up to 80% more topical nutrients, meaning serum applied to the skin can penetrate deep into the dermis, stimulating repair at a cellular level.
One Pen Treats All
Dermapen Microneedling can be used to treat lines and wrinkles, acne scars, medical scars, burns and stretch marks. It can even be used to assist with stubborn tattoo removal. The treatment is similar to laser treatments, but without the side effects or the long recovery time. The adjustable needle depth allows treatment that adapts to individual client's needs. Between 4-6 sessions are recommended.
Tri-Acid Peels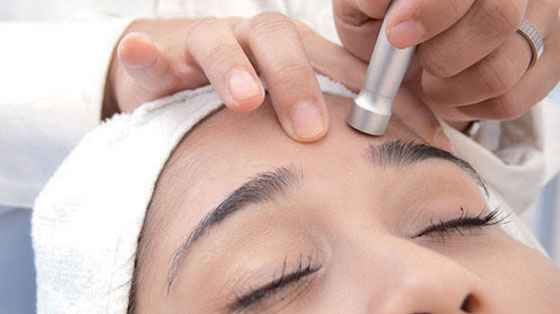 For immediate skin brightening, a tri-acid peel can reinvigorate your complexion without downtime. A superficial peel, it works to slough away the top layer of skin, revealing fresh, new skin underneath.
Results include minimised pores, reduction in fine lines and acne lesions, and moderate improvements in tone, texture, and coloration. Skin will appear more radiant for several weeks post-treatment, making it ideal to have in preparation for a big event.
Quick & Pain-Free
The tri-acid solution is applied to the face for just 15 minutes and, although you will feel a mild burning sensation, you will not require anesthesia or pain medication. After treatment, your skin will look initially red but this will subside as quickly as the next day.
It takes the skin approximately 5 days to heal itself after a tri-acid peel, at which point you will start to see first signs of results that will maximise after a week. Optimal results will accumulate after several treatments spaced 3 to 4 weeks apart.
Combine Treatments for Maximum Results
Many of these treatments can be performed together to increase effectiveness. Non-surgical treatments can also be combined with surgical procedures to enhance their results. For example, additional skin tightening can be beneficial post liposuction or lift procedures.
We also recommend a Deep Cleanse Hydrating Facial prior to non-invasive facial treatments to provide nutrients that will aid rejuvenation of the skin. Our highly experienced team can make specific treatment recommendations based on your aesthetic goals, skin type and budget etc.
Our Team of Beautians & Therapists
The Spa is headed up by Dr Maria Aranda, a GP with a Masters Degree in Aesthetic Medicine and specialist expertise in the field of lasers. Our fully qualified, licensed and multilingual therapists include Ana Caicedo Rodriguez (Lymphatic Drainage, Quiromassage, Reflexology Radiofrequency/Ultrasound Machines), Antonio Julia (Micropigmentation and PRP Therapy) and Angela Conde (Beautician, Make-Up Artist and Chiropractor).
---